Primary Care Ambulance provides Basic Life Support (BLS) and Advanced Life Support (ALS) emergency and non-emergency medical transportation. Whether it's from your home to medical care facilities, hospital to hospital transfers, or state to state transfers, we can help you. We take care of:
Emergency Department transports.  We transport to any ER in the area, so long as the patient is in stable condition
Hospital Discharges
Transfer from one hospital to another by patient or family choice
Transports from Skilled Nursing Facilities
Medically Necessary transports to dialysis centers, cancer treatment center, hospital clinics, and private doctor office visits
Special Event Standby
Specialty and Long-Distance Transports
We accept all forms of insurance including Medicare and Medicaid as well as private pay patients.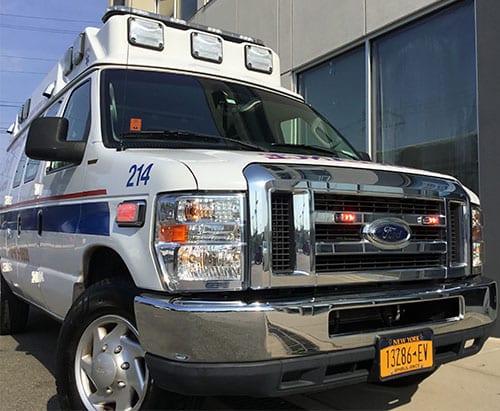 Basic Life Support (BLS)
Primary Care Ambulance Basic Life Support (BLS) ambulance units are staffed by emergency medical technicians who are trained in basic airway management, bleeding control, 02 administration, CPR,  automated cardiac defibrillation, orthopedic care, plus much more.
Advanced Life Support (ALS)
Primary Care Ambulance Advanced Life Support (ALS) paramedic units have state-of-the-art equipment and are staffed by an advanced cardiac life support (ACLS) certified paramedic capable of transporting critical care patients 24 hours a day 7 days a week. ALS paramedics are able to operate mechanical ventilators, 12 lead ECG monitors, SpO2 monitors, multiple or extensive intravenous lines and IV medication administration via multiple chamber pumps. Paramedics can perform a host of advanced life support procedures such as advanced airway management, cardiac rhythm interpretation, Intravenous medication administration, intraosseous needle placements, external cardiac pacing and cardiac defibrillation.
Long Distance Transfers
Primary Care Ambulance can provide a wide variety of long distance transports for all types of patients. We can consult with family members and case managers in scheduling these transports. We recognize the difficulty in planning for a transport of a patient from a hospital or nursing facility to a long distance facility or residence. The staff at primary care ambulance is prepared and willing to make this transport as smooth and pleasant for all involved. Please call our communication center 24 hours a day for free consultation and quote for any sort of long distance transport.
Primary Care Employees Specialize In:
Clinic/Doctor Appointment Transports
Mercy Care Transportation
Staten Island's Premier Ambulette Service
Mercy Care Transportation for non-emergency medical and non-medical appointments. Providing Ambulette service with personal door to door ground transportation for those with limited mobility.